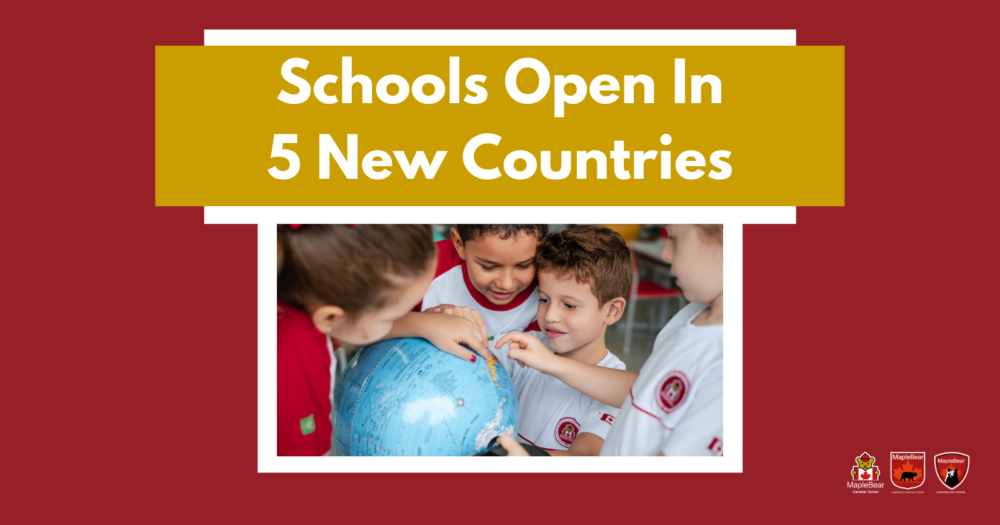 We know that the global demand for high-quality education is growing more and more as parents achieve the economic means to give their children a head start in life. The proof of this is evident at Maple Bear Global Schools.
Educators and entrepreneurs alike around the world are choosing to meet this demand by investing in a Maple Bear school for its world-class Canadian methodology and because of the international reputation of Canadian bilingual education.
Parents are equally inspired to enrol their children in a school that provides a safe space where they will learn the skills to meet the needs of the 21st century, and where they are a part of a global community of over 500 schools in 30+ countries.
We know our schools continue to be a highly desirable place for families.
We have added many new schools in our existing countries. Plus, this year, new students entered their shiny brand-new hallways of our Maple Bear schools in the countries of Peru, Guatemala, Oman, Serbia, Romania, and Ukraine.
We welcome these schools to our Maple Bear Family!
PERU AND GUATEMALA SCHOOLS ADDED TO THE LATIN AMERICA FAMILY
In addition to our presence in Brazil and Mexico, we opened our first school in Guatemala (Guatemala City) and in Peru (Arequipa).
MAPLE BEAR GULF SUCCESSFULLY OPENS NEW SCHOOL IN MUSCAT, OMAN
The opening of the very first Maple Bear school in Muscat, Oman took place in March. The Maple Bear program has been adapted to develop a bespoke English-Arabic bilingual program, based on best practices laid out by our Canadian approach to education.
EXPANSION INTO 3 COUNTRIES IN CENTRAL AND EASTERN EUROPE
Maple Bear is developing fast in this region because high-quality education is sought after among parents.
In Kyiv, Ukraine, the Maple Bear school is in a state-of-the-art building with a capacity of up to 500 students and current enrolment targets set in September have already been reached.
And in Cluj Napoca, Romania, more than 140 kids started this year in two Maple Bear Kindergarten locations.
The first Maple Bear Kindergarten in Belgrade, Serbia is offering children of ages 1 through 7 a wonderful space to enjoy its beautiful, green location and amazing sport facilities.
We are so proud of these schools opening safely despite the pandemic which continues to be a concern around the world. Knowing that providing an excellent Canadian education is at the heart of what we do, these students are well on their way to becoming the confident leaders needed for a prosperous and hopeful global future.