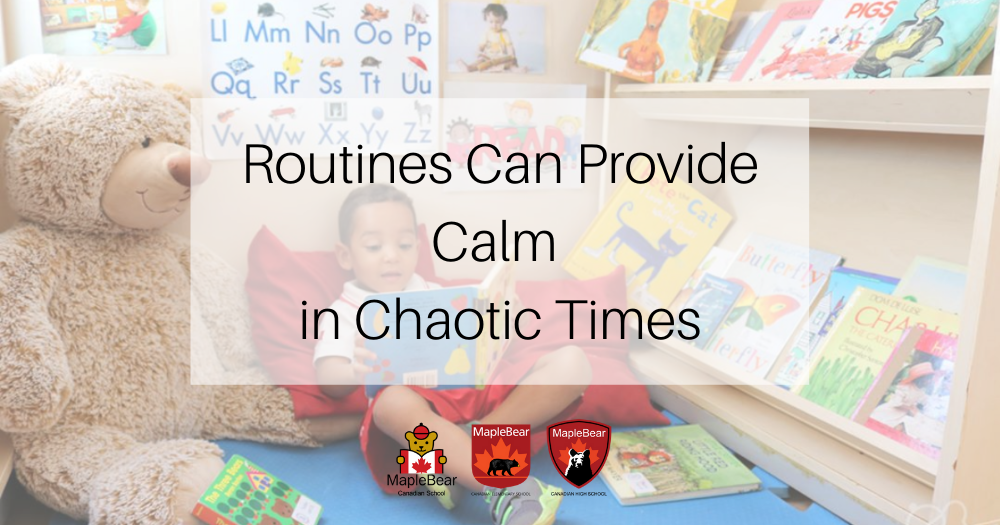 There is no doubt we are living in a challenging and unprecedented time. All of a sudden, parenting has become a 24 hour by 7 day job, and for those parents trying to work from home, there's the additional complication of keeping the kids occupied, fed, and safe in a clean house while working and trying to keep worries about the future in check.
So, how do parents stay sane during this time of self-isolation?
At Maple Bear, we truly understand and empathize with what our parents are going through. We care about our families and we want to help them cope and be as healthy as possible. More than ever before, children need to feel they are safe, loved and comfortable in their environment for learning to take place.
As educators, we know the importance of routines in the classroom. It allows for a sense of predictability that brings forth calm in the class.  And although you cannot replicate a Maple Bear classroom, this new reality brings with it the opportunity to create new routines that fit your home life.
Comfortable Learning Environment Includes Predictable Routines
Remember, first and foremost, to be patient and kind to yourself and your child if routines aren't followed.  We are, after all, in a global pandemic.
It is really important to keep routines predictable, comfortable, and flexible.
Ask yourself some questions to help establish a routine that fits your family:
When does your child learn best?
When do they need breaks, play time, physical activity and free time?
When is a good time for family time?
What chores and home responsibilities does your child have?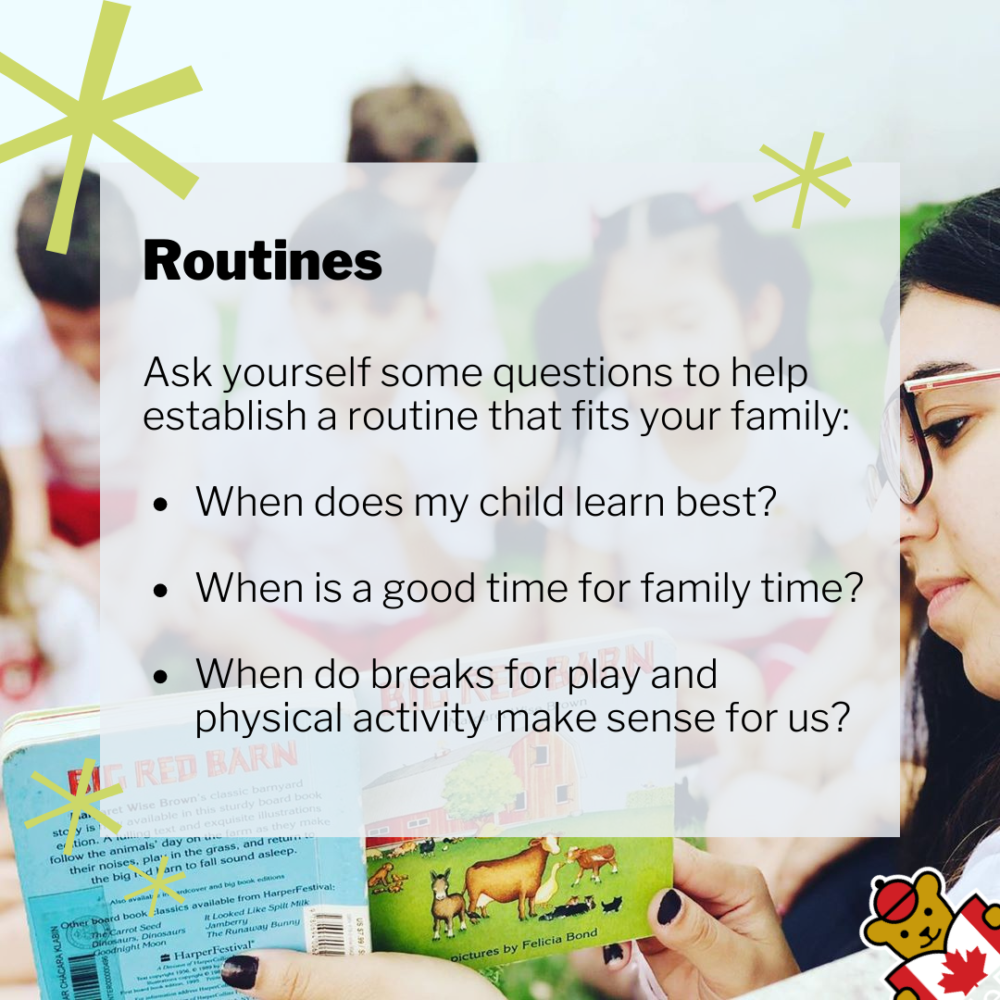 Tips for Establishing A Daily Routine
There are a host of things you can incorporate into your daily routine.  It's up to you to determine what best suits you and your family.
Establish a consistent wake up time so everyone is getting dressed and building their independence by selecting their own clothes.
Have nutritious and regular meal times.
Designate a space for learning that suits your child's age and learning ability; a play area as well as a study area.
Stay in touch with your child's teacher(s) for guidance, support and suggestions.
Maple Bear school time has been organized into virtual classrooms, at-home activities and conferences with teachers. Your participation as a parent will depend on the age of the child. Do your best – we understand that life is complicated and your involvement may be sporadic.
Continue the good hygiene habits, particularly important during this crisis.
Screen time is inevitable. But it can be a sanity saver.  Don't feel guilty about scheduling worthwhile content like favourite movies and games, all of which can help maintain English language skills.
Make time for family time. This could be a body break during the day, or physical activity and time outdoors, if social distancing allows.  Gardening, walking the dog, doing a fun YouTube workout video together can all be examples of how to connect with your child while staying active.
Time for artistic experiences could mean listening to music, dancing or singing a song, painting, drawing, sidewalk chalk, scavenger hunts, or collecting things around the house.
Establish a consistent bedtime with calming rituals like reading a bedtime story, singing a lullaby or cuddling with a favourite stuffed toy.
Overburdening yourself with heavy expectations for home schooling is unfair and gets in the way of the most important things: health, happiness and optimism about the future.  These ideas for family routines are meant to be supportive, not rigid.  Remain calm, be kind, and be flexible while providing a structure within which your children can feel supported and loved during this challenging time.