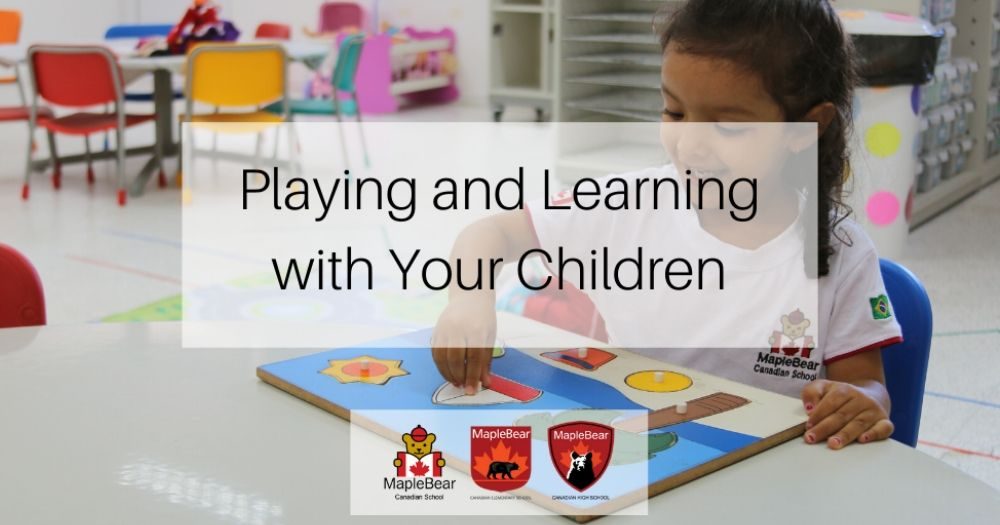 Posted in
Education
on Monday, May 18th, 2020
Play is good for everyone. At Maple Bear, play is part of our pedagogical foundation and we recommend that play (for children and adults) becomes an essential part of every day.
With families at home and isolated from normal activities, new routines are required for everyone to be emotionally and physically well.
And play can become an intimate and integral part of the "new normal" routine that can benefit all members of the family.
Play is How Children Learn
Play is how children learn!  It facilitates brain growth and builds the wiring necessary to support these five domains:
Cognitive
Communication and Language
Emotional
Physical
Social
At Maple Bear, our high-quality education follows a student-focused learning model.
Arpi Babaian, Maple Bear Brazil Co-Associated Academic Director, says, "Maple Bear teachers consistently use playful elements in their teaching because this encourages learning. Play reduces stress and pressure on the children."
Play-based learning is at the centre of our teaching methodology.  But it certainly is not limited to being taught only in school. Learning through play can easily be supported in the home environment.

Playing with Early Year Learners
For the preschool aged learners, all that is necessary is a motivated parent, or family member and materials you can easily find at home that are considered "toys".
Many items in your house can inspire play at this age:
Plastic food storage containers and lids
Sponges
Cardboard or plastic boxes
Pots and pans
Bubble wrap
Toilet rolls, paper towel rolls
Old cards and magazines
Big bowl of soapy water
Roll of tape or masking tape
Small notebooks and pencils
Scraps of fabric, old bedsheets
Often at this age, children can play independently for short periods of time.  Parents may only need to get the child started and be nearby while they play, ready to switch activities when they need a change. It may be possible to situate the play area close to a work station, so work can get done.
For other activities, more parental engagement may be necessary. Reading aloud, taking turns with a game or joining in make believe are all ways to become an enjoyable playmate for your child.

Children Never Grow Out of Play
Children never "grow out of" play, nor should they. Parents at home with children old enough to understand the pandemic crisis will know that there may be home-schooling expectations.  However, it is still important the kids have enough time to play, which will promote cognitive, language, physical and social-emotional learning.
Here are some ideas for play with elementary and middle years' children:
Let your child teach you a game and be the boss. Take a role in imaginative play (for example, be a patient if your child is pretending to be a doctor).
Watch and learn as your child teaches you a video game.
Teach a new skill such as how to volley a ball. Demonstrate and then step back to let your child practice.
Clear a space for practice of dance, martial arts, yoga, or Zumba.
Get outside as often as possible while respecting the necessary safety restrictions.
Get down to your child's level. This can be on the floor or at a table.
Repetition of a favourite game or activity is fine. We all learn through repetition.
Don't object to energetic, loud play. Join in often. Children need to expend pent-up energy, as they do at school recess time.
Remember that play is learning, and it reduces stress by boosting joy, laughter, and calm feelings.

High School Students (and Adults) Need Play Too
Teens and adults need to play to support healthy relationships, efficient work habits, and a positive attitude.  Neuroscience tells us that play is good for the brain. It triggers the release of endorphins, the body's natural feel-good chemicals, and this promotes an overall sense of well-being.
Of course, high school students have more demanding school responsibilities as they move towards the post-secondary world.  But never forget the importance of play and help your teen and yourself by scheduling time for fun. Without healthy recreation, burnout can be a real concern.
Here are some ways to support teenagers to have fun in their day:
Cook meals or bake goodies together.
Have a video game night where the whole family plays together.
Dedicate one night or two to a board game night.
Have a go at singing together – Karaoke style.
Take outdoor walks and explore the neighborhood or parks while respecting safety restrictions.
Playing with a younger sibling is a way to build connection.
Encourage jogging, biking, or exercising (if done in a safe manner).
Make time for creative endeavors like art, music, dance. Tech creativity counts! (Make a YouTube or TikTok video or practice coding skills.)
Watch a comedy series together or a movie version of a school-assigned novel.
Look into ways to serve your community through volunteerism.
Spending Time Together is an Opportunity to Play and Learn Together
The reality of the COVID-19 situation is truly devastating and disheartening.  However, if there is a silver lining to this "new normal", it is that families are spending more time together. To ensure that this reality results in stronger parent-child bonds and not increased stress, remember that play is good for everyone. It not only supports learning, it adds joy to life, it reduces stress, brings families together and creates lasting memories.