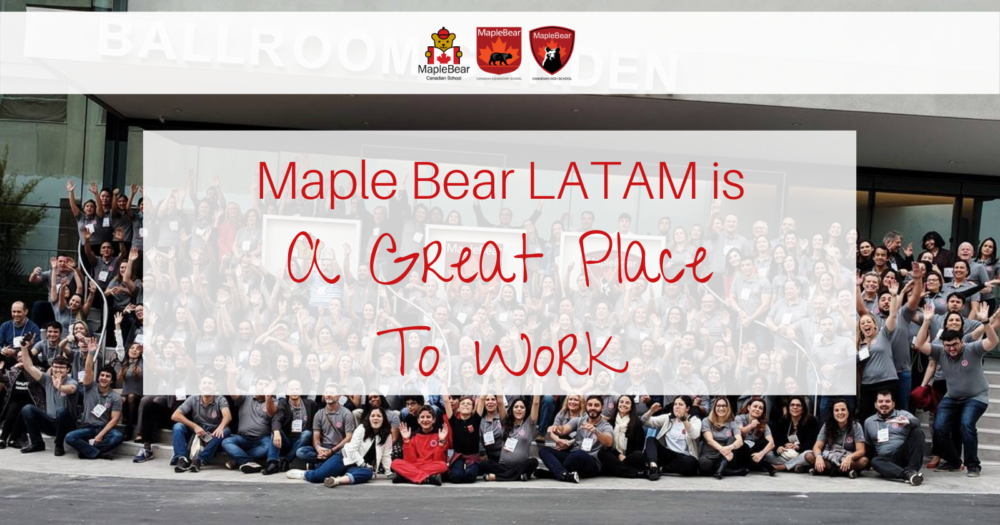 Just as quality education is a key component to student success, organizational culture is a vital characteristic attributed to a successful, favourable workplace.
It is an impressive accomplishment that Maple Bear Latin America (LATAM) is among 10 of the best small multinationals to work for in Brazil, according to the Great Place To Work Institute, for the third year in a row.
And it is no question that Maple Bear Latin America has been working hard at not only growing the Maple Bear brand, but at making sure the company culture remains as positive as possible so employees stay engaged and do their best work.
Robert Publio, Maple Bear LATAM's People Director said this:
"Taking care of people, bringing out the best of each team member and providing on-going learning and growth opportunities is crucial in all sectors, especially in the area of education, which is exclusively focused on the development of people. As educators, we must set an example of leading practices in human development. This recognition, which we achieved for the third consecutive year, shows that we are heading in the right direction."
Beginning with only 14 employees in 2014, Maple Bear LATAM has grown to 80 employees supporting over 150 schools in Brazil, Mexico, Peru, and soon in Argentina and Paraguay.
With this rapid and extensive growth, it's an admirable achievement to keep employees motivated, engaged and satisfied with their professional life while maintaining the ongoing dedication to our mission: that nothing is more important than the education of Maple Bear children, and by extension, the on-going training of its network of teachers.
In particular during the pandemic, the team at Maple Bear LATAM demonstrated their commitment and strong work ethic to the schools, the students, the parents and to the company.
With the sudden lockdown measures in place, it galvanized the staff into action, united by the common goal of continuing to provide high quality Canadian education no matter what the challenge. They developed and delivered an entirely new digitized educational system for all the schools to use within a matter of weeks (learn more about our Digital Learning Community here).
Only a company with highly motivated and engaged employees could accomplish such a monumental task.
Congratulations to the team at Maple Bear LATAM for this huge achievement!