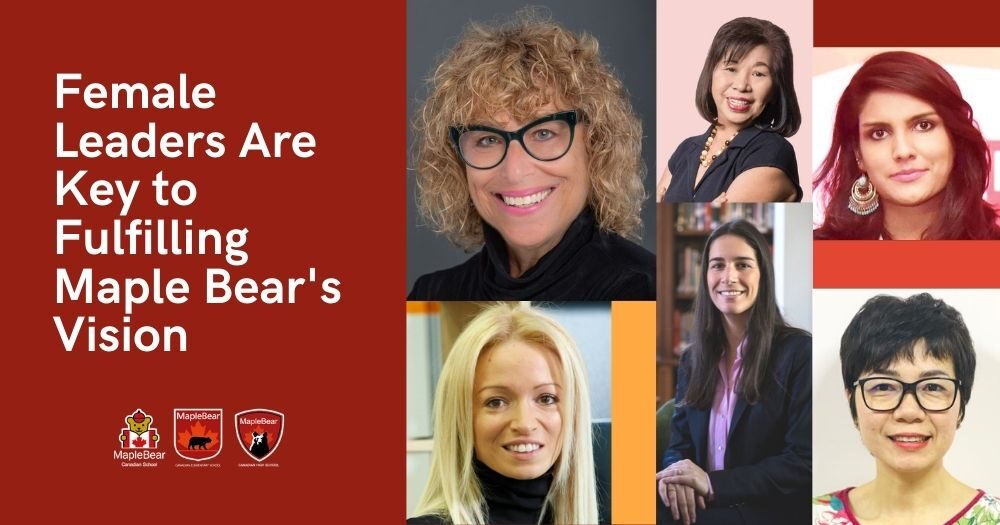 While education as a profession has always been a field in which female teachers have been successful, even in 2021, there are still significantly more men in administrative and leadership roles in the education sector around the globe.
Maple Bear Global Schools, however, is an exception. In fact, women leaders dominate this world-renowned, franchise business.
Women Leaders Dominate Maple Bear Global Schools
To celebrate International Women's Day (March 8), we asked some of our fearless female leaders to give us their thoughts on what leadership qualities they value most, what they see as their biggest responsibility and how they are preparing female students at Maple Bear for the challenges they may face in their future – a future that the World Economic Forum indicates will still take more than a lifetime to make gender equality a reality.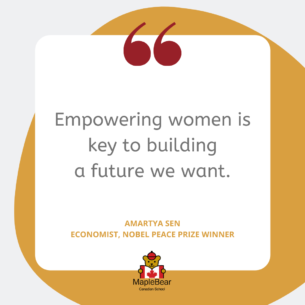 A key finding from this report is the importance of women in leadership to help close the gender gap. Women in leadership act as role models to inspire other women to succeed. However, women leaders also have the power to make changes that will increase equality both in the workplace and in wider society.
So, we are excited to profile several of our women leaders from around the globe and share their insights into this important issue that affects, not just women, but all genders.
Robin Pascoe
Board Member, Maple Bear Global Schools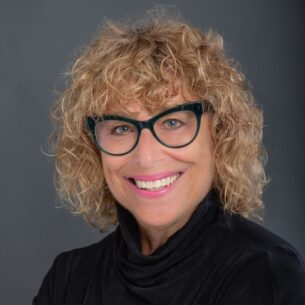 When I hear the phrase "International Women's Day" collaboration comes to mind, and the importance of working together as a global community of women to address challenges we share and also success stories of what works!
I believe any leader, female or male, should always be responsible for being a role model, for being a mentor, and always keeping an eye out for opportunities for everyone on your team.
By placing an emphasis on critical thinking skills, empathy, and the acquisition of another language which enhances the ability to communicate, Maple Bear is preparing all of its students to be ready to lead the world that awaits them.
I am proud to be Maple Bear, because Maple Bear is an excellent model of an organization which places a high value on the contribution of women. You only have to look at the number of women working for Maple Bear in absolutely every role, from owner, to teacher, to trainer, to the people who run the company!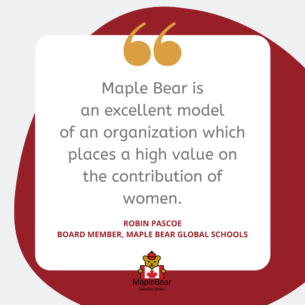 Thamila Zaher
Executive Director, Grupo SEB
Board Member, Maple Bear Global Schools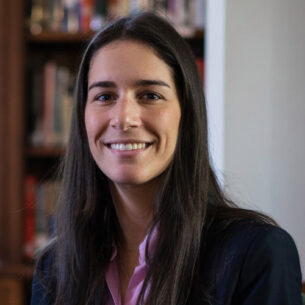 International Women's Day is a time to celebrate the presence and value of women as an integral part of society and of their achievements obtained over the years. The female members of our Maple Bear team inspire me and are a model for the entire Maple Bear network.
As educators, we fundamentally believe that everyone has talents and can contribute to the improvement of their communities, regardless of their gender, culture, origin, age or ethnicity.
We believe that diversity and inclusion are key to innovation and problem solving while building a fairer society and harnessing each other's potential.
Education is one of the most relevant and noble activities that exist in our society. And as a female leader in education, my responsibility is to build, promote and cultivate a humanized organization, by developing close bonds with our families and focusing on our students. My goal is to develop a team passionate about the success of each child and adolescent in all spheres of their life.
The Maple Bear methodology aims to develop students who have a true passion for learning. Our students are encouraged to do their best, recognize the best in others, and understand that no achievement is possible without equality and collaboration.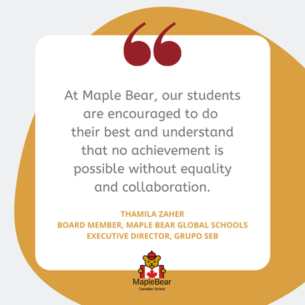 Patricia Koh
Chief Executive and Education Ambassador, Maple Bear Singapore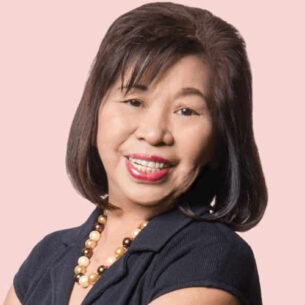 At Maple Bear, our mission has always been to prepare our children to be leaders of tomorrow. And although the future is unknown, we are constantly working to ensure that our young girls in particular will be confident to face uncertainty.
How do we do that?
By nurturing their curiosity so that they will not be afraid to ask questions, try new things and think of solutions to new challenges and problems.
By encouraging creativity so that they will keep their minds open to new possibilities and contribute meaningfully to their society as women.
By building on good communication and collaboration skills so that they can share ideas and impart knowledge in such a way that everyone around them can reach their dreams.
When thinking about my responsibility as a female leader in education, I believe it is to set a great example for other women to follow. Many have asked me when I will be retiring! And my answer has always been, "Why should I retire from what I love doing most?" I wish for all women who are working with children to never feel tired and never give up their mission of making the world a better place for our future generations.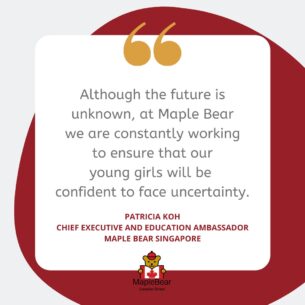 Piya Modi
Chairperson, Maple Bear South Asia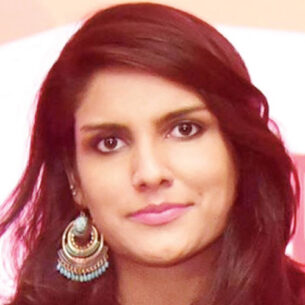 With the education industry in India being driven by women, it is a great platform for us to display our talents and strengths.
Being a leader in Maple Bear, I feel responsible for empowering my fellow school owners, teachers, parents, students and all other staff with the tools and knowledge provided through the Maple Bear curriculum.
The ability to use the tools at our disposal and provide knowledge and global education practices to students across the region is the strength of Maple Bear. It is essential to provide high quality education through our schools and help develop young minds, in particular those of our female students, to eventually become the next generation of leaders.
There is a strong emphasis on equality in the Maple Bear curriculum and methodology. This allows our female students to stand at par with their male counterparts. Highlighting that women can do anything they set their mind to, promotes the commitment and drive for our female students to achieve their goals and fulfil their dreams.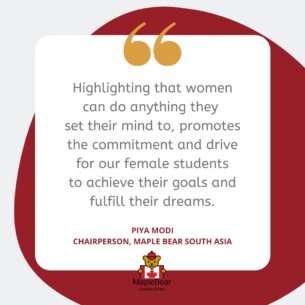 Jennie Nguyen
General Director, Maple Bear Vietnam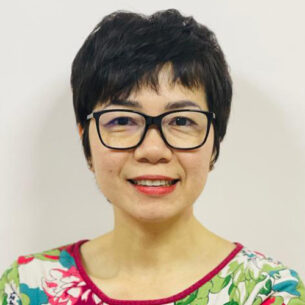 I feel the biggest responsibility we have as women in leadership roles in education is to listen to our female students, teachers and staff and to make sure we inspire them with positivity, build their confidence and enhance their inner courage which will help them to rise up to their full potential.
By planting the seeds of confidence in our female students, they are more willing to try, explore and achieve. The Maple Bear program prepares them with these essential life skills and the academic competence necessary to be well-prepared for the future.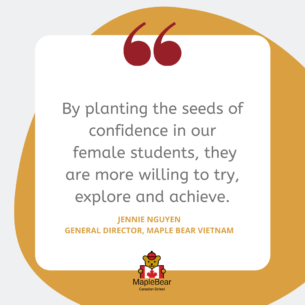 Virginia Momtchilova
Director Communications and Operations, Maple Bear Central and Eastern Europe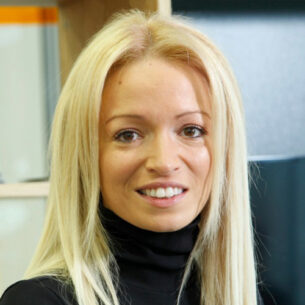 As a leader in the Maple Bear family, my biggest responsibility is supporting all of our schools and teams in Central and Eastern Europe in an inclusive way.
When considering the best approach, the following qualities are imperative and are the ones which make women successful leaders in today's world: empathy, teamwork, supporting work-life balance, listening, ready to handle crisis situations, multitasking, flexibility, consistent communication, positive approach, and leading by example.
Maple Bear prepares all its students for the challenges of the fast changing, highly challenging and demanding world, by fostering inclusion and educating them on the principles of 21st century skills, while ensuring that their future accomplishments are not limited by their gender.
International Women's Day for me, above all, is a tribute to women by women. It is the day on which we, as women, honour all our female predecessors who forged the path to make the world a more equitable place. Although, we still have a long way to go, we need to support and celebrate each small step towards furthering our rights and accepting and respecting diversity.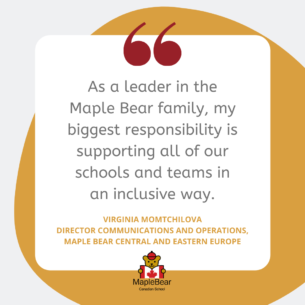 We Can All Do Our Part To Create An Inclusive Classroom and An Inclusive World
International Women's Day is a global day celebrating the social, economic, cultural, and political achievements of women. The day also marks a call to action for accelerating women's equality.
This year's theme is #ChooseToChallenge. We can all choose to challenge and call out gender bias and inequality. We can all choose to seek out and celebrate women's achievements.
Maple Bear does its best to help create an inclusive classroom. And collectively, we can all help to create an inclusive world.
#IWD2021 #ChooseToChallenge