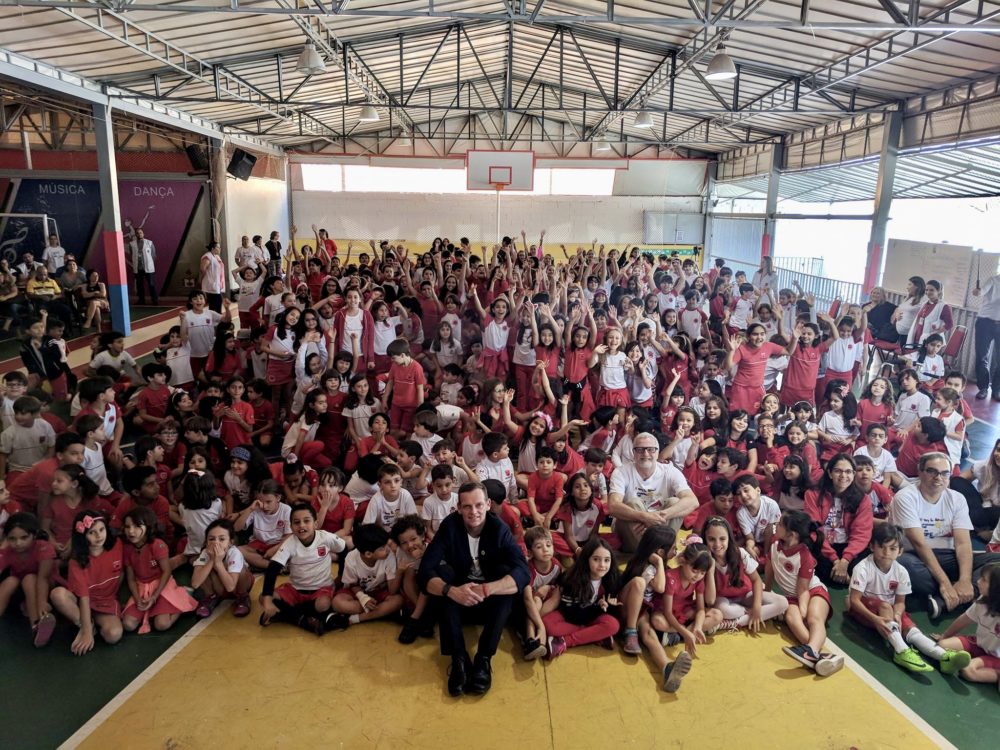 Maple Bear Brazil hosted the 10th Annual National Owner's Convention last month at the beautiful Bourbon Atibaia Convention Centre. More than 200 participants from around the country joined together to network, learn, and be inspired by all the elements that makes Maple Bear so great.
This year's convention was made particularly memorable with a special guest appearance on the agenda: Darrell Fox, brother of Canadian hero Terry Fox and representative of the Terry Fox Foundation, was the opening keynote speaker.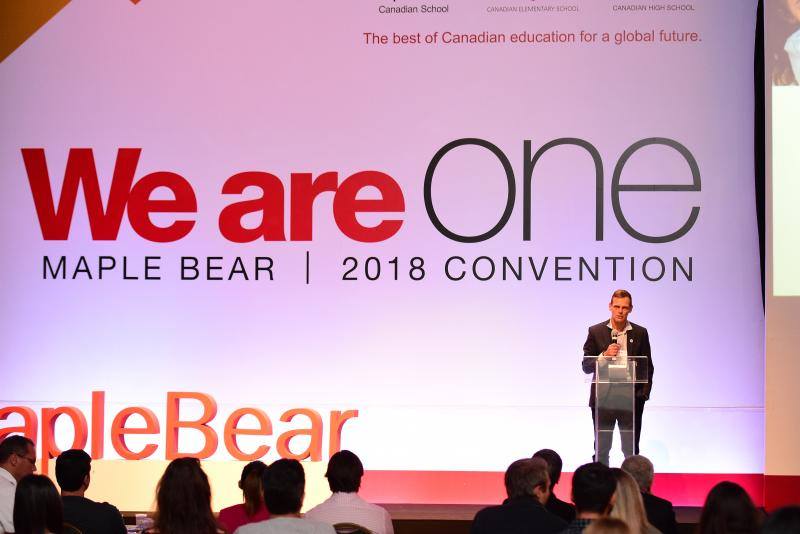 Maple Bear Global Schools is committed to creating a generation of students who are socially responsible and who believe in giving back to their communities. So, it's a logical step in that direction to work with the Terry Fox Foundation. Darrell's participation at the Brazil convention provided the perfect opportunity to announce the official launch of Maple Bear Global Schools Terry Fox initiative, known as the Terry Fox Thanksgiving fundraising event.
The Terry Fox Thanksgiving fundraising concept will be an activity or event organized by Maple Bear Canadian schools in Brazil and will focus on celebrating Terry Fox, teaching his values and providing children a leadership role in fundraising. It will be an enriching way for students to have the opportunity to give back to their communities and to prove that one school can make a difference in the fight against cancer which knows no borders or social classes.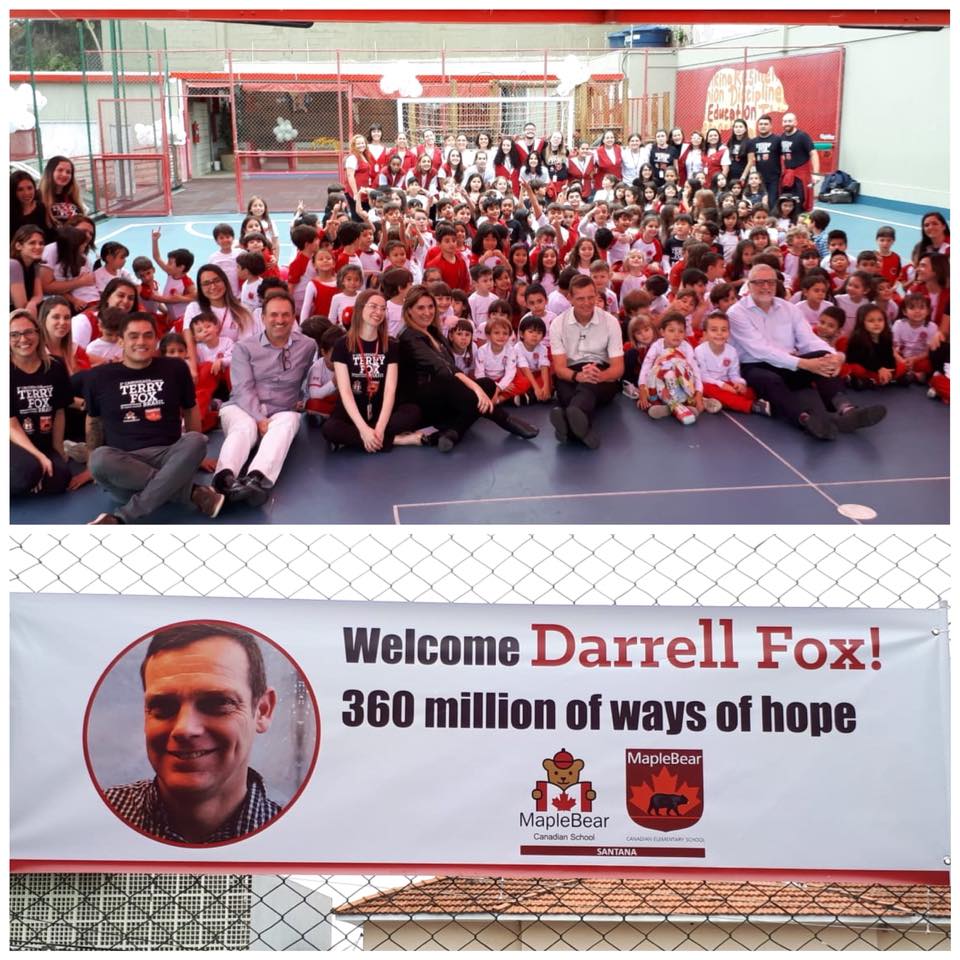 "We want our students around the world to make a difference, firstly in their own countries but also in the global world which they are inheriting," says Robin Pascoe, Director of Global Communications for Maple Bear Global Schools.
"For that reason, we have developed a community investment strategy to enhance a culture of giving back in every country in which we operate in order to create compassionate, socially conscious local, active, and global citizens who care deeply about their communities."
"When I addressed the Brazil school owners at the convention—after Darrell's moving speech to them—I basically challenged them to join one of the largest Canadian displays of solidarity against cancer. Money donated through an international Terry Fox event also stays in the country in which it was raised, which is important to us."
Maple Bear Brazil is the pilot location to launch the Maple Bear Terry Fox initiative in 2018.  Future phases will see a rollout to other countries in the Maple Bear global family.
"Our goal is to eventually encourage every Maple Bear school in the world to raise money to fight cancer," says Robin. "Using a Canadian hero like Terry Fox helps as he captures the imagination of students. Right now, Terry is introduced in our elementary school curriculum but in the future, Maple Bear students will learn about him in pre-school and high school."
Before and after the owners convention, Darrell also had the chance to visit two schools to really experience the Maple Bear energy up close and to see how the young students have embraced Terry's legacy.
Maple Bear Santana in Sao Paulo welcomed him with a play performed by the year 4 students interpreting Terry's life, his struggle with cancer, and his message of hope.
"What a great honour and privilege for us to receive Darrell Fox, brother of Terry Fox, for a visit at Maple Bear Santana." says Maple Bear Santana owner Maria Cristina de Miranda Ribeiro Stersi.
Darrell also had the opportunity to meet with enthusiastic students from Maple Bear Brasilia. This event was also attended by the Canadian Ambassador to Brazil, Ricardo Savone.
Students designed T-Shirts using Terry as their inspiration. Five shirts were then selected to be produced to raise money for the Terry Fox Foundation. An incredible amount of money was raised – almost $5,000. And Maple Bear Global Schools matched this donation bringing the total to almost $10,000. It was an amazing show of community support for this worthy cause.
The national convention was a huge success and the inclusion of Darrell Fox and the Maple Bear Terry Fox initiative really enhanced Maple Bear Global Schools vision for creating a culture of giving back throughout our family of schools.